Vravíte si, čo má držková polievka spoločného s Tureckom? To som donedávna netušila ani ja, ale už som na to prišla. Držkovú totiž milujú aj v Turecku, len ju inak nazývajú.
V Turecku nájdeme kadejaké polievky, ako napríklad šošovicová, alebo polievka z ovčích hláv ( o tých sľubujem, nabudúce napíšem tiež). Dnes však sa chcem bližšie venovať držkovej polievke. Úprimne, na Slovensku keď ju robievala starká som veľmi nemusela jej vôňu resp. pach, v Turecku som si ju obľúbila. Nazývame ju v Turecku işkembe çorbası. A dokonca ju už viem aj pripraviť !:)Pretože je to veľmi veľmi jednoduché. Doba prípravy je max. pol hodina.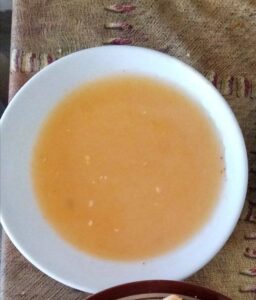 Čo potrebujeme na držkovú polievku ?
Ingrediencie
Pol kg držiek z hovädziny
Citrón
Dve vajíčka
jedna väčšia cibuľa
4 strúčiky cesnaku ( podľa chuti aj viac)
Paprika na dochutenie, bylinky, chilli, mäta,
Dve lyžice masla
dve lyžice bieleho jogurtu bez chuti
Ak chcete môžete pridať lyžicu múky, ale nemusíte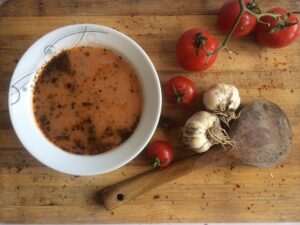 Polievka je na 4 porcie
Pripravíme si držky, umyjeme ich a pridáme do hrnca, kde sme si predtým pripravili cibuľku a cesnak na masle do sklovita, pozor aby neprihorelo:)
Držky trošku pripečieme a prudko osmažíme na cibuľke, cesnaku. Pridáme papriku, mätu prípadne iné bylinky, zalejeme asi 5 pohármi vody. Pridáme za stáleho miešania dve vajíčka, predtým rozmiešané v šálke. Varíme v zakrytom hrnci asi 15 minút kým držky nezmäknú. Na záver odstavíme a pridáme pár kvapiek citrónu.
Dobrú chuť.
işkembe çorbası milujem :)pretože je veľmi zdravá, obsahuje veľa vitamínov a minerálov.
Sledujte nás na instagrame
https://www.instagram.com/ochutnejturecko/?hl=en
zdroj foto: pixabay